ProLife Battles at York, PA
Psalm 127:3
Lo, children are an heritage of the LORD: and the fruit of the womb is his reward. (4) As arrows are in the hand of a mighty man; so are children of the youth. (5) Happy is the man that hath his quiver full of them: they shall not be ashamed, but they shall speak with the enemies in the gate.

Commentary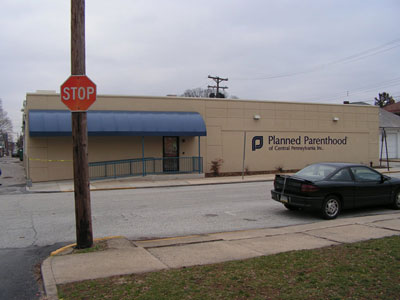 Planned Parenthood Abortion Center: Site of the Battle

I have been involved with pro-life since 1974. In 1987, when I moved to central Pennsylvania, I became very active at the abortion centers. My faith would not be as developed to the extent it is now, if it were not for the pro-life experiences in my life.
In 1999, I heard of the outrageous behavior of the York Police and pro-abortion supporters at the Planned Parenthood (PP) center. A few of us from the Harrisburg area decided to go to York and help the pro-life people who were under assault. This started a 10 year odyssey, which just ended late last year in a tremendous victory in the Federal Court of Appeals, Philadelphia! This legal victory is found later in this posting. The City of York agreed to settle out of court, and I cannot disclose the amount other than I was greatly pleased!
When first going to York, I had no idea that the entire county and city government were arrayed against us. I soon found out the PP owned this county. Officials in PP were involved in both Democrat and Republican elections. They were campaign workers and made large donations.
They were rewarded by Stanley Rebert, the District Attorney, by doing everything possible to try and break us through court action. He even showed up at one of our trials and sat and watched!
The mayor would visit the PP center. The Chief of Police and his captain bragged to me about helping create the security system for PP. They mentioned, directly to me, about fixing our cases with the local judge! Yes, they bragged directly to me about fixing our cases. The York police at the PP center were paid $37.50 per hour by the abortion center! They were off-duty, yet in full uniform while working for Planned Parenthood. Even a York City councilwoman showed up as a pro-abortion supporter.
One honest judge told us, we could not get a fair trial in York because of the political connections PP had. He recused himself from the trial because he was connected to PP. One honest police officer told us that powerful forces within the city were against us, and we were in danger!
No local attorney would defend us as they were afraid of the court system! The American Center for Law and Justice provided us with two top attorneys: Skip Ash and Walter Weber who won a huge civil lawsuit that had been filed against us. PP wanted a "bubble zone" around the abortion center and our attorneys defeated this challenge!
We needed an attorney to defend us against criminal action and God provided Denis Brenan who was fearless in the face of the corrupt court system. At one point, a judge said Denis was out of control and removed herself from the case. Denis was out of control because he wanted EVERYTHING on the record, and she could not handle this! In a letter, she actually threatened his law license! To his great credit, Denis Brenan never backed down, and by his tenacious legal defense, he kept many of us out of jail! I have the absolute highest respect for Denis Brenan, as he is a true pro-life champion.
Later, God led us to Dennis Boyle and Randy Wenger who are civil rights attorneys. I explained to them the situation in York and they took up our cause. The case was first dismissed in federal court by Judge John Jones III. Later, he was completely reversed by the court of appeals, which finally gave us the total victory over the corrupt system in York. PP stopped doing abortions in 2009, so with the abortions stopped and being vindicated in court, it was a compete victory to which I give total credit to the Lord Jesus Christ.
It was only through prayer and standing on the word of God, were we able to totally defeat such entrenched corruption. There is a new mayor and police chief in York along with a new district attorney, so maybe York is not now as corrupt as it was. I hope so for the sake of the people living there.

Immediately, when first arriving at the abortion center, I found the police hostile and the pro-abortion escorts violent. The police would and did arrest us for anything and then perjure themselves in court. I found this very disheartening, as I was a federal agent at the time, the founder of Cops for Christ, and an ordained police chaplain. I worked with and knew so many good police officers, it was very difficult to interact with the police officers at the abortion center.
It turns out the "police" at the abortion center were being paid by PP. These officers were off-duty and had volunteered. I viewed them as prostitutes who disgraced the law enforcement profession and told them so. All of them heard the gospel of Jesus Christ along with their responsibility as law enforcement officers before God found in Romans 13. When you view the following video, remember these police officers are off-duty and being paid by Planned Parenthood.
Beside the legal victories over York, there were numerous babies saved and mothers helped. It is difficult to tell how many babies were saved because sometimes the mother left after talking and said nothing, but several hundred were saved from abortionist Joel Stein.
| | |
| --- | --- |
| | I spoke to a father outside the abortion center. His wife had already gone inside for the abortion. He did not want the abortion and tried to talk her out of it. I told them I would help. He went in and came back out and said she was going through with the abortion. I gave him my telephone number and left. Later that day, he called and said at the very last minute she changed her mind and wanted to keep the baby if I would help. This is the picture of Kayden who literally was saved from the grasp of the abortionist. |
In the video, you will see me confront Sgt. Richard Barth. This confrontation is what triggered the lawsuit against York. There is a reference in the confrontation to a prior incident involving a vehicle.
What had happened was a high speed vehicle came down the alley next to the abortion center and attempted to run me over. The driver had just dropped a woman off for an abortion, and I had spoken to her. He left and then returned coming down the alley at a very high speed. I was standing on the side of the alley. As he approached me, he turned the vehicle at me and nearly ran me over. Sgt. Barth witnessed this and refused to arrest the driver. The driver actually drove past Sgt. Barth and then walked past him to enter the abortion center! I made a complaint to Sgt.Barth, who admitted seeing the incident but said nothing had happened.
I then went directly to the York Police headquarters to file a complaint but was told to leave as I was just a "trouble maker." Next, I went to the mayor's office, but he was not in. I ended up with Community Relations who had the police initiate an investigation. I had five eye-witnesses who gave affidavits to the incident. Sgt. Barth refused to admit anything happened, so no charges were filed. Later, Sgt. Barth used this incident in an attempt to violate my Constitutional rights and this triggered the lawsuit.
Finally, I want to give credit to Ed Snell who is a true friend and another pro-life champion. Ed bore the brunt of the York Police anger. Ed videoed our activity at the abortion center to document the actions. This documentation was vital in protecting us from being falsely arrested.
Ed used his video archives to produce the following documentary. This is raw footage you are about to watch, but it is live action between the pro-life advocates and the promoters of killing babies in the womb. You will witness several arrests. This is like a behind scene peek into the battle to save babies' lives.
This video is not inclusive, as it just touches highlights of what happened. Please take the time to watch the video, as I think it is unique, and you will see a side of America that you might not have ever seen, unless you stand for the life of the innocent babies.

Sgt Richard Barth, York PD.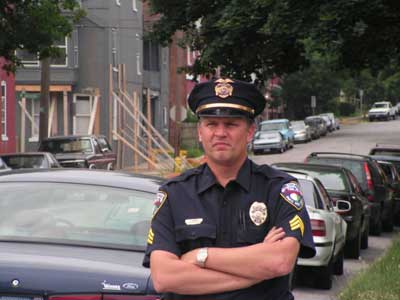 One footnote about the video. You watched me confront the police about the very young girls being brought into the abortion center. Although no governmental agency would act on this, once I went public about what was happening, young girls were no longer seen at the center!


The Case Decided by Third Circuit Court of Appeals
JOHN McTERNAN,
v. CITY OF YORK, PENNSYLVANIA; MAYOR JOHN S. BRENNER; POLICE COMMISSIONER MARK L. WHITMAN; SERGEANT RICHARD BARTH, York Police Department
http://www.aele.org/law/2009all06/074437p.pdf


The Court stated: "The intersection of the various First Amendment rights at play here is reminiscent of a law school exam. We will attempt to parse the relevant issues in our analysis to provide guidance to the District Court, as we conclude that there are genuine issues of material fact that require us to remand."


Report By: Randall L. Wenger
Chief Counsel representing John P. McTernan
INDEPENDENCE LAW CENTER
23 North Front Street, Second Floor, Harrisburg, Pennsylvania 17101
Telephone 717-657-4990
McTernan v. City of York and Snell v. City of York are much more significant than the already significant constitutional rights of Messrs. McTernan and Snell. Instead, these cases created much needed precedent at the U.S. Court of Appeals for the Third Circuit. For years the courts have limited our first liberty, the right to freely exercise our religion. However, the court in these cases was clear that the religiously motivated speech outside the abortion clinics was constitutionally protected and that the strictest level of judicial scrutiny applied. Moreover, the court paid close attention to the claim that the police officers were making up the rules as they went along. Because of that, the court also applied the equivalent to the strictest level of scrutiny even to the speech rights that were at stake. Additionally, and importantly, the cases also cast pro-life speech in a positive light, which itself is a useful phenomenon.
These cases expanded the protection of constitutional rights. And the precedent of these cases applies to all cases brought in Pennsylvania, New Jersey, Delaware, and the Virgin Islands. Moreover, the sound reasoning may influence courts across the nation.
Messrs. McTernan and Snell's rights were violated. But their harm has worked out for the good of constitutional rights-and particularly religiously motivated pro-life speech. They should be thanked and God praised.


Proverbs 6:16-19 These six things doth the LORD hate: yea, seven are an abomination unto him: A proud look, a lying tongue, and hands that shed innocent blood, An heart that deviseth wicked imaginations, feet that be swift in running to mischief, A false witness that speaketh lies, and he that soweth discord among brethren.

By John McTernan
Defend and Proclaim the Faith

Blog: John McTernan's Insights at www.johnmcternan.name