Information Page
As America Has Done To Israel
Is America on a collision course with God? There is a direct correlation betwen the alarming number of massive disasters striking America and her leaders pressuring Israel to surrender her land for peace. Costing hundreds of lives and causing hundreds of billions of dollars worth of damage, dozens of disasters, including devastating earthquakes, raging fires, hurricanes, floods, tsunamis, and tornadoes, have hit America - and always within twenty four hours of putting pressure on Israel. What can you do as an individual - and what can America do - to change the direction of our country in relation to Israel to prevent an increasing number of calamities? Read this amazing book and find out!
As America Has Done to Israel - Pt.2 from John McTernan on Vimeo.
Special Offer! Book & DVD Series $25.00 plus shipping



As America Has Done to Israel & America's Fatal Mistake 3 DVD Series


The book and the DVD together give you a great panoramic view of Bible prophecy regarding Israel, and how God has been warning America to stop interfering with
His prophetic plan for Israel. John's material always encourages the reader to focus on the Lord Jesus' coming for His church.

As America Has Done to Israel - $15.00

-Now Updated to September 2012-
by John P. McTernan, Ph.D. (Paperback) 319 Pages

This book has many pictures, some of which, have never before been released. These unique pictures include the Nazi movement in Long Island, New York prior to World War ll; the US Navy saving the Zionist movement in Palestine during World War l; and many more. For more detailed information about the book, see John's video presentation found below.
"This book proves the key to the past and future of America is inextricably tied to what America has done to Israel. This book shows why I fear for the future of America..."
-Sid Roth, Host, It's Supernatural! TV

America's Fatal Mistake (It Doesn't Have To Be Yours) - 3 DVD Series - $20.00


Part 1. God in American History
You will be amazed to see the correlation between United States blessing the Jewish people and America becoming a great nation and world power.

Part 2. God in America's Current Events
You will see documentation that, starting in October 1991, when the United States began to interfere with God's plan for Israel, incredible disasters hit America the same day! This includes The Perfect Storm, Hurricanes Andrew and Katrina, massive tornado outbreaks, the Northridge Earthquake and the 2008 stock market crash.

Part 3.
John teaches from the book of Obadiah to show what is going to happen in the near future between Israel and the Arab countries. He shows from the Bible that entire Arab countries are going to disappear in war with Israel. This sets the stage for the Day of the LORD and the Second Coming of Jesus Christ.

As America Has Done to Israel - E-Book - $9.99

-Updated version coming soon-

E-Book (Electronic Book Version) is in EPUB format for E-Readers. This format is for digital books readers such as Kindle.

As American Has Done to Israel - PDF format - $9.99

-Updated version coming soon-

This format is for computers only.
Reader Reviews

Richard Harding, (Menlo Park, CA) said:
I couldn't put this book down. I believe this will be the next Late Great Planet Earth in terms of popularity. The coincidence rate is so high in terms of these disasters happening at the same time American actions for dividing the land of Israel have happened makes it very hard to believe that there isn't some serious truth going on here. McTernan's predictions about the future are very real and disconcerting.
Israel and America
Rating * * * * *
Date: 2010-02-15
I highly recommend this book. It brings clarity to the connection between the United States of America and the nation of Israel. There is a Godly connection in that we are in a position to watch Bible Prophecy unfold before our eyes. This book is an excellent guide to prophecy.

Eye Opening!
Rating * * * * *
Date: 2009-04-25
This is an awesome and sobering book. It details the fact that America has been a blessing to the Jewish people from the beginning of our country. This has enabled us to become the prosperous nation that we are today. However, when decisions are made that go against the nation of Israel, swift judgement occurs. The author gives numerous examples of this. Also, very good insight as to where this country is headed based on recent government decisions. A must read!

"Long before John was associated with Now The End Begins, we purchased his materials as a major data source for many of the articles about Israel in the end times that we have put out. We HIGHLY recommend his books for everyone who is serious about end times prophecy study." - The NTEB Staff

John P McTernan, Ph. D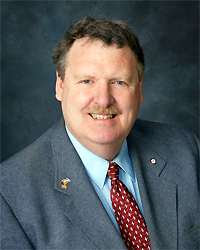 During numerous appearances on television, radio and in seminars, he has publicly defended Israel in light of Biblical prophecy. His current best selling book is As America Has Done To Israel.
He is author of the acclaimed book God's Final Warning to America, and co-author of the bestseller Israel: The Blessing or the Curse. From his experience debating, John wrote the Only Jesus of Nazareth series. This series includes: Only Jesus of Nazareth Can Sit on the Throne of David and Only Jesus of Nazareth Can Be Israel's King Messiah. Additionally, he has written several tracts, including Muhammad or Jesus: The Prophet Like Unto Moses, and The Koran vs the Bible.

John holds a B.S. from Virginia Commonwealth University in Richmond, Virginia, and an honorary PhD in Biblical Studies from Calvary Christian College. He served 26 years as a Federal Treasury agent before retiring in 1998.
Additional Books & Videos
by John McTernan